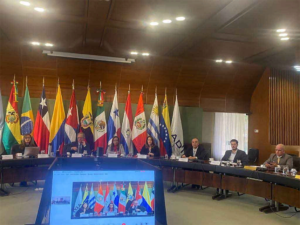 Havana, Cuba.- Cuba today maintains its participation in the Latin American Integration Association, which developed at its headquarters in the Uruguayan capital the Ciclo País, dedicated to the Caribbean island.
Ciclo País has as its fundamental purpose to increase intra-regional trade and integrate small and medium-sized companies, a sector in growth in the Antillean nation. It is an effort to generate greater business opportunities and, above all, for Cuban companies and trade promotion entities to be updated on the benefits and services offered by Aladi.
The virtual meeting had a presentation by Vivián Herrera, General Director of Foreign Trade of the Ministry of Foreign Trade and Investment of Cuba. Cuban ambassador Zulan Popa and commercial adviser Ezequiel Díaz participated in person.
The event was headed by the general secretary of Aladi, Sergio Abreu, who was in Cuba a few weeks ago on a visit to launch from Havana the tenth edition of the Multisectoral Business Macroround, this time ExpoAladi-Cuba 2023.
ExpoAladi will take place in person in the halls of the Havana Convention Center from October 2 to 4, although it includes a sector that will be negotiated in a hybrid format: Information Technology and Communications services.
As Abreu explained in Havana, the business round will bring together 13 countries to discuss more agile and dynamic mechanisms that allow the signing of bilateral or multilateral agreements, the creation of new regulations, redefining tariff restrictions and including new cross-cutting issues.
The Aladi executive said that the forum will seek the participation of micro, small and medium-sized companies, which lost 30 million jobs in the region due to the Covid-19 pandemic.
For the commercial event in Havana, Cuba proposed sectors for potential buyers such as biotechnology and pharmaceuticals, tourism, food and beverages, and professional services, including information technology, education, and transportation, among others.
Aladi member countries reported areas of interest such as livestock, agro-industry, agro-business, clothing industries and various manufactures.
It will be an opportunity for Cuban companies, which will be sellers in the forum, in the midst of the blockade imposed by the United States for more than 60 years and the consequent damages to the country's economy and the standard of living of its citizens.