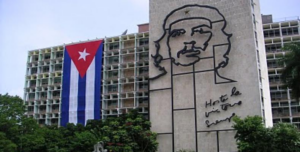 Havana, Cuba.- The Cuban Ministry of the Interior (Minint) commemorates today 62 years since it was created with the mission of relentlessly watching over national security and citizen tranquility.
After the triumph of the Cuban Revolution and with the growing aggressiveness of the U.S. government, the Ministry was institutionalized on June 6, 1961 with the aim of concentrating efforts, experiences, human and material resources of different agencies that had been scattered until then.
The Ministry of the Interior's departments and those of the Justice Cabinet related to the preservation of the country's internal order and security, coming from the Revolutionary Armed Forces, the National Revolutionary Police and the Department of Investigations of the Rebel Army, were integrated into the nascent institution.
In subsequent years, it continued to strengthen its organizational structure through the creation or integration of other specialties such as the Fire and Forest Ranger Corps, the Canine Technique, the Border Guard Troops and the National Special Brigade.
The fundamental mission of the Minint lies in the preservation of State security and the internal order of the country, which harmoniously links the confrontation of criminal and counterrevolutionary activities with the prevention of these phenomena.