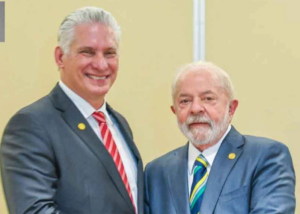 Havana, Cuba.- Brazil and Cuba will close agreements, mainly on cooperation in the agricultural area of ??energy transition, during the trip of President Luiz Inácio Lula da Silva to the Caribbean island, scheduled for this week.
This was confirmed by Brazil's ambassador in Havana, Christian Vargas, who clarified that Lula will not make an official visit to the Antillean country but will participate in the G77 and China summit, next Friday and Saturday.
The organizers of the forum indicated that dozens of heads of State and Government will attend, as well as leaders of international organizations and organizations, including the Secretary General of the United Nations, António Guterres.
The Cuban Foreign Minister, Bruno Rodríguez, specified that more than 90 member states have already registered on the list of speakers for the event, which is a demonstration of the interest aroused by this summit, focused on the current challenges of development: role of science , technology and innovation.
Such a meeting is convergent with Lula's foreign policy efforts to unify the interests and demands of the Global South.
The founder of the Workers' Party will have meetings during his stay in Havana with his Cuban counterpart, Miguel Díaz-Canel, and other authorities. Both leaders will also resume cooperative relations between their countries, practically interrupted during the administration of the far-right ex-president Jair Bolsonaro (2019-2022).
One of the rapprochement measures will be the opening of a direct commercial flight from Brazil to the Cuban capital, with only one stopover. Previously, in October, the airline Latam will begin offering a flight with a connection in Lima, Peru, which will reduce travel time and price, stimulating bilateral tourist flow.
Two months ago, Vargas arrived in Havana, where there was no Brazilian ambassador four years ago, and began the work of restoring diplomatic relations.
The ministers of Science and Technology and Health will be part of the Brazilian delegation, and some agreements will be signed.
Regarding the United States blockade against Cuba, the diplomat pointed out the disastrous consequences for the economy and the Cuban people, and the condemnation of the absolute majority of the world's countries, reiterated annually during the General Assembly of the UN.
For the first time, under direct guidance from Bolsonaro, Brazil voted in 2019 against the resolution calling for an end to unilateral isolation. Cuba received the overwhelming support of the international community, when 187 member states spoke out against the economic, commercial and financial blockade.