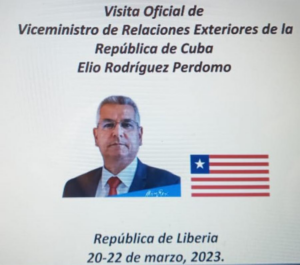 Havana, Cuba.- Cuban Deputy Foreign Minister Elio Rodriguez, began an official visit to Liberia, which will last until next Wednesday, according to the Havana Embassy in Monrovia.
According to a note from the diplomatic headquarters, Rodriguez plans to hold exchanges with authorities of this African country to continue strengthening bilateral relations and deepen the ties of friendship and solidarity between the two nations
Liberia is a country located on the west coast of Africa with a population of four and a half million inhabitants. Its president is George Weah, of the Congress for Democratic Change (CCD) party, since the elections held in December 2017.
The Republic of Liberia and Cuba established diplomatic relations on April 19, 1974