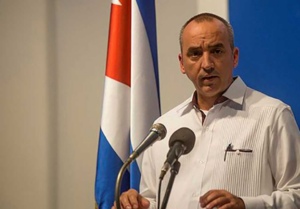 Havana, Cuba.- Officials from the Cuban Foreign Ministry on Sunday denied rumors on social networks about the impossibility for Cubans who exercise their right to vote to benefit from the "humanitarian parole" from the United States.
From his Twitter account, Ernesto Soberon Foreign Ministry's general director of Consular Affairs and Cuban Residents Abroad commented that representatives of the Government of the United States had confirmed that the warning was false, according to which those who went to the polls on Sunday would not be able to access the program.
"This is a fraudulent threat intended to confuse and intimidate," he said.
For several days on social networks, an image of an alleged tweet from the United States Citizenship and Immigration Service was circulating, stating that those who voted in the general elections in Cuba would be denied access to US parole.
However, neither the account of the US Government in charge of processing and granting immigration and citizenship benefits to those who meet the legal requirements, nor its Facebook profile, have information in this regard.
The permanent representative of the Republic of Cuba at the United Nations, Pedro Luis Pedroso, stated that Washington uses social networks to lie and confuse, these are its real weapons.
The machinery of hatred and misinformation against Cuba has tried to manipulate voters so that they did not go to the polls to elect the lawmakers.
Even so, nearly five million Cubans had voted by 14:00 hours in total calm.