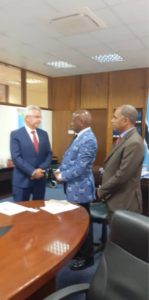 Havana, Cuba.- Elio Rodríguez Perdomo, Cuba's Deputy Minister of Foreign Affairs, met this Wednesday with government authorities and representatives of the social sectors of Botswana, as reported on Twitter.
As part of a working visit to the African country, the Cuban deputy minister held a meeting with Elías Mpedi Magosi, Executive Secretary of the Community for the Development of Southern Africa, who thanked Cuba for its cooperation with that organization and its 16 member states.
During the day, Pono Moaltlhodi, vice president of the National Assembly of the Republic of Botswana, expressed to the Caribbean diplomat his willingness to develop parliamentary exchanges with the island.
Rodríguez Perdomo was thanked for the work carried out by Cuban aid workers in that nation, from the Botswana Minister of Health and Welfare, Edwin G. Dikoloti, who expressed his interest in expanding cooperation between both countries in this sector.
The Cuban minister arrived in Botswana from South Africa, where on Tuesday he chaired the seventeenth Inter-Foreign Ministry Political Consultation Meeting between Cuba and that African country.