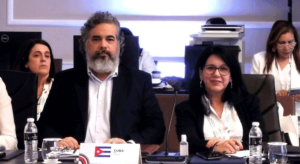 Havana, Cuba.- The 5th Meeting of National Coordinators and Cooperation Managers of the Ibero-American Conference began in Santo Domingo, Dominican Republic.
The event will focus on finalizing the preparations for the 28th Ibero-American Summit of Heads of State and Government, scheduled for March 25 under the motto "Together for a fair and sustainable Ibero-America".
The National Coordinator for the Ibero-American Conference, Rodolfo Benítez Verson, general director of Multilateral Affairs and International Law of the Cuban Ministry of Foreign Affairs, chairs the Cuban delegation that participates in the preparatory meeting.
Benítez Verson will be accompanied by Janet Fernández Padilla, Deputy Head of Cooperation and director of the Ministry of Foreign Trade and Investment's Trade Policy with Latin America and the Caribbean.
The main documents that the Heads of State and Government will adopt are called upon to strengthen inclusive cooperation and translate the political will of the Member States into concrete initiatives that benefit the peoples of Ibero-America.
The Cuban delegation will promote the efficient use of the resources available for South-South and Triangular Cooperation, as a complement and not a substitute for the necessary North-South Cooperation.
The Ibero-American Conference is made up of 22 Spanish and Portuguese-speaking Latin American and Iberian States. Cuba is a founding member since its establishment at the 1st Ibero-American Summit held in Guadalajara, Mexico, in 1991.