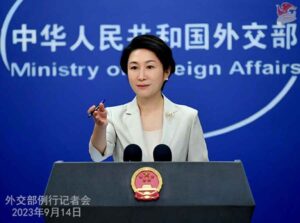 Beijing, China.- The Chinese government praised Cuba's work as president of the G77+China, while expressing optimism about the contributions of the upcoming summit in Havana.
In response to a question from Prensa Latina, the spokeswoman for China's Foreign Ministry, Mao Ning, expressed her wish that this event leads to "greater solidarity, closer cooperation and a joint response to the challenges among developing countries".
The official emphasized that the G77+China is a collaborative mechanism that safeguards international equity and defends common interests of its members. Cuba convened the Summit of Heads of State and Government of this mechanism to be held in Havana over the next two days under the theme "Current Development Challenges: Role of Science, Technology and Innovation".
The member of the Standing Committee of the Political Bureau of the Central Committee of the Communist Party of China, Li Xi, will chair China's delegation to the event.
Li Xi, also head of the Central Commission for Discipline Inspection of the Central Committee of the aforementioned political organization will also make a bilateral visit during his stay in Havana.
According to Cuba's ambassador here, Alberto Blanco, Beijing is a member of relevance due to its valuable experiences in science, technology and innovation for sustainable development and falso due to its weight as one of the world's leading economies.
The diplomat urged to identify points of convergence and initiatives which should contribute to complementarity among the countries of the South and highlighted the role of China as a factor of stability and balance for the world.