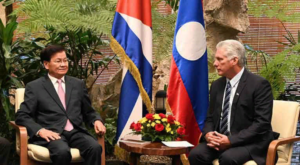 Havana, Cuba.- The president of Cuba, Miguel Díaz-Canel, held official talks with his Lao counterpart, Thongloun Sisoulith, who is visiting the island to participate in the Summit of the Group of 77 and China.
During the meeting, the leaders expressed their willingness to continue strengthening high-level political dialogue, partisan ties and the historic ties of solidarity and cooperation between both countries. Díaz-Canel highlighted that his counterpart's trip to the Caribbean country reflects the commitment of Laos to the cause of the G77 and China.
Thongloun Sisoulith met this Wednesday with the Cuban Prime Minister, Manuel Marrero, with whom he ratified the shared interest in increasing cooperation in areas of common interest, such as agriculture, health and sports, and in the political, economic and commercial spheres.
The Laotian head of state arrived in Havana on Tuesday to attend the G77 and China Summit next Friday and Saturday, under the theme Current development challenges: Role of Science, Technology and Innovation.
Since assuming the pro tempore presidency of the bloc, in January 2023, Cuba has developed an intense agenda to put into practice the vision defended by the Group, which represents 80 percent of the world's population and more than two thirds of membership of the United Nations.
During the period, the island hosted important meetings, among them the meetings of ministers of Education, Culture and Tourism of the Group, and last July the meeting of ministers and high authorities of the environment of the 134 countries was held in Havana. members.