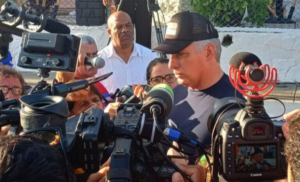 Havana, Cuba.- Cuban President Miguel Diaz-Canel described the elections that are taking place in the country on Sunday as a party and a day of extreme joy.
"We are going for another new revolutionary victory," the head of State noted after casting his vote.
Diaz-Canel is one of eight candidates for the Cuban National People's Power Assembly (Parliament) from Santa Clara, the capital of Villa Clara province.
The president noted that in the next five years, the 10th Legislature is going to focus, fundamentally, on how to overcome the economic and social situation that Cuba is going through.
"This strategy will have to be constantly fed back as the nation develops," said Diaz-Canel, who is also the first secretary of the Communist Party of Cuba (PCC).
He pointed out that the second priority will be to comply with the legislative exercise and the way to give a solution and continuity to everything that people have been raising in the candidates' tours throughout the national territory.
"It must be said that many of the things that people have raised have already been solved, others have been explained to them because they could not be solved, based on the fact that whenever we can take a bit out of a problem it is a way of prevent them from growing," he stressed.