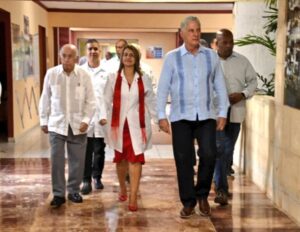 Havana, Cuba.- President Miguel Diaz-Canel today attended the ceremony marking 60 years of Cuba's medical collaboration in the world, in which 605,000 health professionals and workers in 165 countries have participated.
The date is celebrated at the Central Unit of Medical Cooperation by the protagonists of that humanist work, which, six decades later, remains with 57 medical brigades formed by 22,632 collaborators, deployed in the five continents.
On May 23, 1963, the first brigade of Cuban doctors went to Algeria, although in 1960 a small team arrived in Chile to help after the earthquake that shook that South American country, which was the first experience in health internationalism after the triumph of the Revolution.
It is a collaboration that not few are determined to smear and discredit with lies and distortions, despite the favorable balance of each health emergency solved, saving more than eight million lives and carrying out almost 16 000 surgeries.
There are the missions in countries at war or devastated by strong hurricanes, earthquakes and outbreaks of Ebola, cholera and the still ongoing Covid-19, in which the performance of medical brigades and the Henry Reeve International Contingent of Doctors Specialized in Situations of Disasters and Serious Epidemics, have provided their essential services.