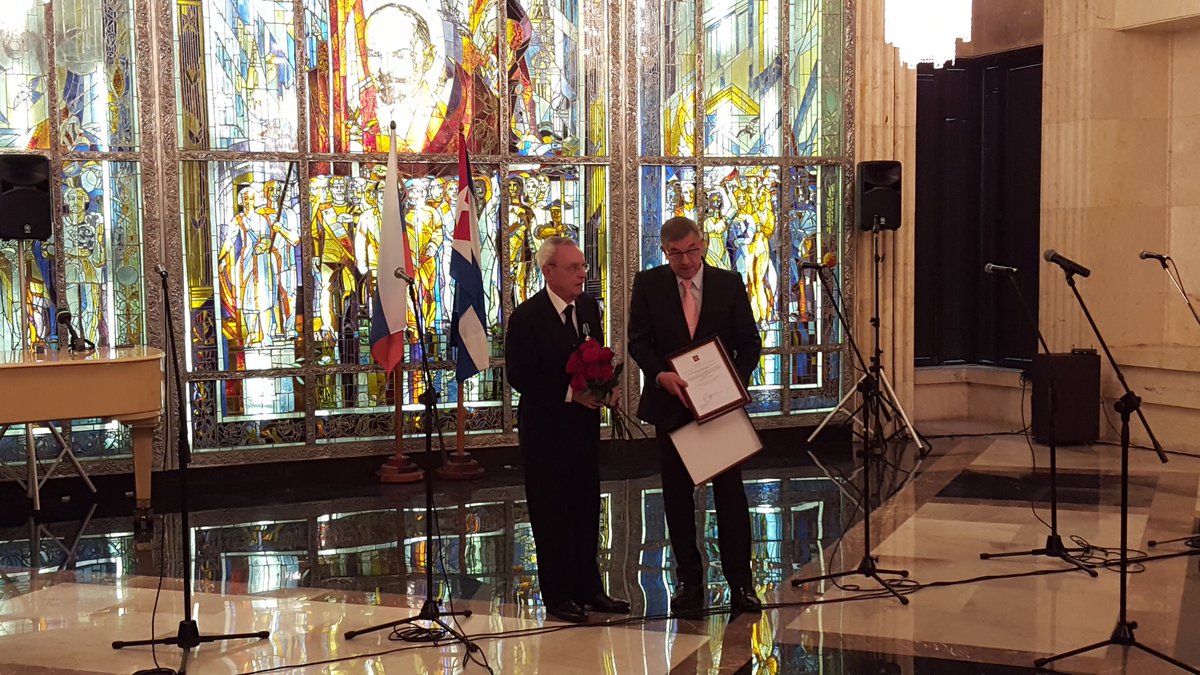 HAVANA, Cuba. – In charge of Vladimir Putin, President of the Russian Federation, the Ambassador of that country in Cuba, Mikhail Kamynin, decorated with the Order of Friendship to Eusebio Leal, Historian of the City of Havana.
The solemn ceremony, at the Russian diplomatic headquarters, was attended by Generals Alvaro Lopez Miera and Ramon Espinosa, as well as representatives of the Government, the Chancellery and cultural institutions.
Kamynin underlined the prestige of Dr. Leal in the academic and social fields, conquered with wisdom and sensibility at the head of the Office of the Historian of the City of Havana, which is guarantee of salvation and future.
The Russian ambassador praised the friendship of the Cuban intellectual with his country, and exemplified with his invaluable work to build in Havana the first temple of the Russian Orthodox Church in the Caribbean Basin, as a symbol of fraternity.
History Cannot Be Changed
When thanking the Order of Friendship, bestowed by Vladimir Putin, President of Russia, Historian of Havana Eusebio Leal, recalled some loving experiences of his visits to a nation with an immense historical and cultural legacy to humanity.
He recalled the moment when Commander-in-Chief Fidel Castro signed the parchment approving the construction in Havana of the Russian Orthodox Church of Our Lady of Kazan, as a symbol of fraternity between Russia and Cuba.
Times change, but history cannot be changed, Leal highlighted when recognizing the foundation of the friendship prevailing in our hearts and in admiration for the country where many were formed in the spirit that has made Cuba respectable and immortal.
In the ceremony young singers of Mariana de Gonitch Singing Academy offered their versions of the theme Victory and the Russian classic Black Eyes.