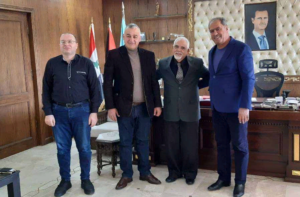 Havana, Cuba.- The president of the General Federation of Workers' Unions of Syria, Jamal Al-Qadri, highlighted this Wednesday in Damascus the solid and historic relations with Cuba, particularly between the workers' union institutions of the two nations.
The union leader stressed that Havana and Damascus face a common enemy that imposes unilateral coercive measures and criminal and genocidal blockades that seek to hinder development and undermine the firmness of the two peoples in vain.
He conveyed a fraternal greeting to Cuban workers and reiterated the will to continue making every effort to maintain and promote cooperation ties with Cuban worker institutions.