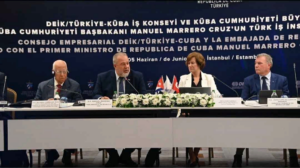 Havana, Cuba.- Cuban Prime Minister Manuel Marrero ratified this Monday the political will of the governments of the Caribbean island and Türkiye to support business and investment initiatives in areas of common interest.
As reported by the Cuban premier on Twitter, during an exchange with Turkish businessmen within the scope of his visit to that nation, he stressed that said willingness on both sides constitutes a strength and an opportunity to promote projects.
At the meeting, organized by the Council for Foreign Economic Relations of Türkiye, Marrero Cruz thanked the willingness and interest in continuing to develop business with Cuba, despite the limitations and risks that this position entails due to the US blockade.
Leyla Ilhan Pamucku, president of the Business Council for Cuba of the Council for Foreign Economic Relations of Türkiye, called to increase the scope of collaboration, especially in the health and construction sectors.
Marrero Cruz said that this meeting gives continuity to a similar event led in November 2022 by the Cuban President, Miguel Díaz-Canel, in the context of his stay in Istanbul, after completing a successful official visit to the Republic of Türkiye.
He affirmed that his country is currently working to advance, with a sense of priority, in strengthening the climate of trust and security for business development, mainly in the tax fields and reciprocal promotion of investments.
DEIK organizes and conducts the international economic relations of Türkiye's private sector, in particular foreign trade, foreign investment, analysis of investment opportunities, export promotion and business development.