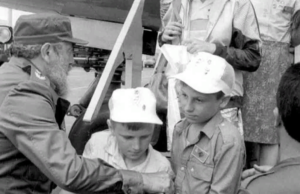 Havana, Cuba.- Cuba recalled this Wednesday the arrival of the first 139 children affected by the explosion of the Chernobyl nuclear power plant, for whom medical care was scheduled.
On March 29, 1990, the leader of the Cuban Revolution Fidel Castro received the first minor victims of that accident to initiate medical assistance that ran from that year to 2016 and that covered more than 26 thousand people.
The patients were located in the Tarará spa, to the east of the capital, where they received comprehensive, massive and free medical care in all specialties, Cuba being the only country that organized such a program.
On April 26, 1986, the fourth reactor at the Chernobyl nuclear plant in Ukraine exploded, a catastrophe that contaminated an area of approximately 140,000 square kilometers and generated a wave of radiation-related illnesses in that territory.
The island implemented a multidisciplinary plan in which hundreds of Health and Science workers were involved, which allowed for more than 21 years to treat and rehabilitate around 26,114 patients, 84 percent of them children from mainly from Ukraine, Russia and Belarus.
Its fundamental objective was to provide highly specialized medical care and develop, in an appropriate environment, a sanatorium rehabilitation plan, with comprehensive health, recreation and cultural actions.
Cuba's gesture allowed the recovery of a significant number of children and served as a reference for all those interested in medical care in disaster situations.