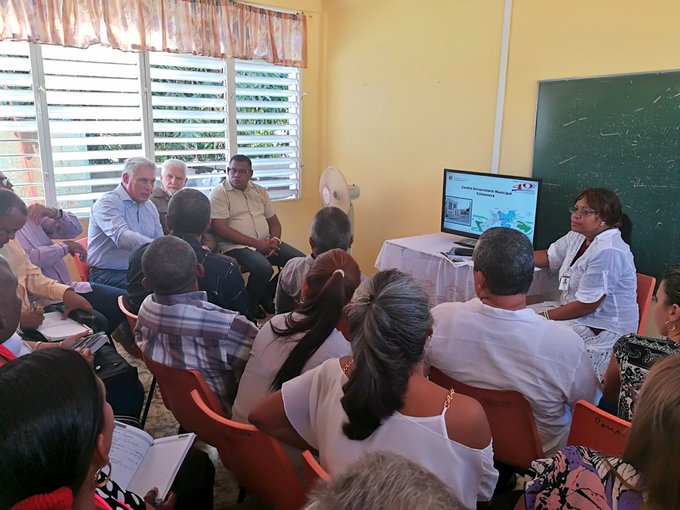 HAVANA, Cuba.-The second working visit of the Council of Ministers to the eastern province of Guantanamo began this Thursday, Cuban President Miguel Diaz-Canel confirmed on Twitter. He leads the government group that travels municipalities and economic and social objectives of that region.
We are in Guantánamo, the easternmost of the eastern provinces to visit with members of the Council of Ministers, the Cuban President wrote on Twitter, while on the same social network the site of the Presidency of Cuba states that the tour began in the municipality of Caimanera, very close to the illegal Yankee Guantanamo Bay.
This is the second visit the Council of Ministers pays to Guantanamo province, a review aiming aims to evaluate the progress of important economic and social programs, as well as verify compliance with the indications emanating from the previous visit in November 2018.
Cuban President Miguel Diaz-Canel and the Council of Ministers systematically visit the provinces to confirm the situation of each territory and issue indications that boost the development of each one.
Diaz-Canel Visits Caimanera
The President of the Republic, Miguel Diaz-Canel is in the municipality of Caimanera as part of a government visit to check the implementation and development of prioritized programs in the country.
On arrival, Diaz-Canel exchanged with political and government authorities and received detailed information about the municipality. Je took interest in the situation of the housing fund, the acceptance of health services and the link between the university and the local development program.
He also identified as main problems the issue of housing, sewerage and waste, while highlighting the sense of commitment and kindness of the people of Caimanera.
The Cuban President then visited the university headquarters, one of Caimanera's two construction materials industries and Frank Pais Salt Mill.
President of Cuba Tour Guantanamo Centers
Cuban President Miguel Diaz-Canel Bermudez visited economic and educational centers of Guantanamo province, as part of his second tour of the eastern territory.
Accompanied by members of the Council of Ministers, the head of State arrived at La Jabilla Farm, where he talked with workers on aquaculture production, according to Twitter posts from Presidencia Cuba.
Previously, Miguel Diaz-Canel Bermudez was in Frank País Garcia   Business Unit, in Caimanera, which contributes 75 percent of the salt consumed in the island.
In that salt mill, key aspects as import substitution, production chaining, and development and export prospects were analyzed.