H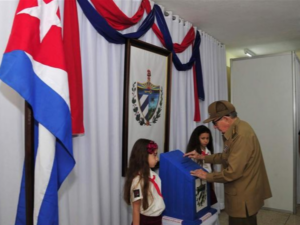 avana, Cuba.- The leader of the Cuban Revolution, Army General Raúl Castro Ruz, exercised his right to vote this Sunday in the national elections to elect deputies to the National Assembly of People's Power (Parliament).
Before voting in the Playa municipality, in Havana, he shared with neighbors of the community and talked with the members of the polling station.
The revolutionary leader is nominated for deputy in the municipality II Frente, a territory of the province of Santiago de Cuba, in the eastern part of the country.
This Sunday, the Caribbean nation is living a historic day for its democracy, eight million 120 thousand 72 voters are summoned to the polls to elect the 470 deputies to the Parliament who will have the responsibility of choosing the president and vice president of the Republic, and continue with the legislative development of the Constitution.