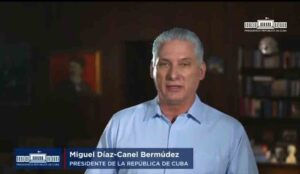 Havana, Cuba.- Cuba's President Miguel Diaz-Canel will attend the 7th Summit of the Community of Latin American and Caribbean States (CELAC, in Spanish) to be held in Argentina, to convey the island's strong commitment to regional integration efforts.
President Miguel Diaz-Canel said the meeting, to be held on Tuesday in Buenos Aires, will be an opportunity to strengthen this 'integration mechanism that we have the duty and the opportunity to revitalize'.
In confirming his attendance, the Head of State expressed the aspiration that "unity in diversity, a key principle that we share, will allow us to act as a solid family to promote and project Latin America and the Caribbean in the discussion of the global agenda".
Cuba's permanent commitment to Celac is expressed in its participation at the highest level in all its summits, and was especially evident in the second of these meetings, held in Havana in 2014, at the conclusion of its pro tempore presidency.
At that time, the island consolidated its role in the region and at the international level, and fostered the rapprochement of the bloc's member nations, as well as the ties of its members with China, with the establishment of the forum with that Asian country, to their mutual benefit.
A milestone was the approval of the Proclamation of Latin America and the Caribbean as a Zone of Peace, which constitutes a reference in the relations between the countries of the region and between them and the rest of the world.
On that occasion, 30 documents were signed, including the Political Declaration of Havana, the Havana Plan of Action and 28 Special Declarations on several regional key issues.
In all the meetings held so far, the island contributed concrete proposals for integration, and defended this mechanism as 'our most precious work', as Raul Castro described it in December 2011, at the founding Summit of Celac, held in Venezuela.
Tuesday's meeting in Buenos Aires will be another historic moment, marked by the return of Brazil, after the country's withdrawal from the bloc in 2020, under the presidency of Jair Bolsonaro.