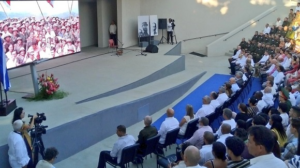 Havana, Cuba.- With the presence of Cuban President Miguel Diaz-Canel, a commemorative ceremony was held Tuesday in Havana to mark the 50th anniversary of historic leader Fidel Castro's visit to Vietnam.
During the event, the ambassador of the Asian nation in Havana, Le Thanh Tung, expressed his confidence that the Caribbean nation will overcome the obstacles in its path and obtain victories in socialist construction.
Morales Ojeda delivered an emotional speech. Photo: PCC.
The activity was also attended by the president of the National Assembly of People's Power, Esteban Lazo, the Secretary of Organization of the Communist Party of Cuba, Roberto Morales, and the Foreign Minister, Bruno Rodríguez.
Fidel Castro was the first and only world leader to travel to the south of the Asian country in the middle of the war in 1973 to reach the liberated zone and meet there with members of the Provisional Revolutionary Government and combatants of the National Front for the Liberation of South Vietnam.
This marked a milestone in the special relations of friendship and solidarity between the two nations.