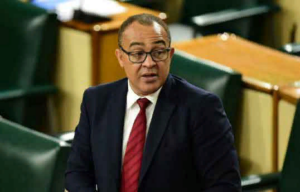 Havana, Cuba.- The Minister of Health and Welfare of Jamaica, Christopher Tufton, celebrated the upcoming arrival to Jamaica of new Cuban doctors who will join other compatriots dedicated to ophthalmological care.
Quoted by the Gleaner newspaper, Tufton stated that, as part of the program called Jamaica-Cuba Eye Care, they seek to determine how many patients require eye surgeries. He noted that approximately 6,458 people were evaluated and, of these, 5,863 are considered to need surgical interventions.
Tufton added that Cuban professionals carry out examinations at the Kingston Public Hospital in order to perform procedures that alleviate the accumulation of cases there. They also care for and treat patients who are on waiting lists for cataract, pterygium and diabetic retinopathy surgeries.
According to the minister, so far 528 patients have been examined and 155 are preparing for cataract surgery; 132 were tested for diabetic retinopathy; 180 accessed laser treatments; and 10 pterygium surgeries were completed.
Tufton further revealed that the remaining nine individuals of the 18-member Cuban team are expected to arrive in Jamaica no later than November.