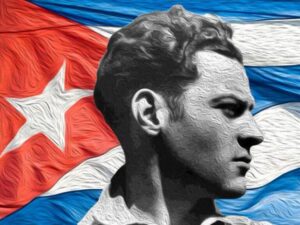 Havana, Cuba.- Cuban Prime Minister Manuel Marrero on Tuesday praised the student leader Julio Antonio Mella´s legacy, whose 94th anniversary of his death is being commemorated.
On Twitter, Marrero said Mella is "an encouraging, exemplary, victorious and invincible striking man for Cuba's socialist Revolution".
According to the Secretary of Organization of the Communist Party of Cuba (PCC) Roberto Morales, Mella was a tireless fighter for justice, social equality and anti-imperialism.
Earlier, Cuban President Miguel Díaz-Canel recalled that Mella's last words as he was shot at the age of 25: "I die for the Revolution", while praising his political leadership, who is recognized as a guide by some political organizations including the Federation of University Students (FEU) and the Union of Communist Youth (UJC).
Julio Antonio Mella was co-founder of the Communist Party of Cuba (PCC) and FEU, among others, and developed in his short life a feverish political and revolutionary activity that became him an international leader.