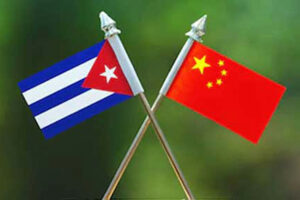 Beijing, China.- Cuba's representatives in China on Thursday denounced that the United States is behind the recent riots that took place in the Caribbean nation and its objective is to create a situation of ungovernability, chaos and violence there.
Andro Vazquez, charge d'affaires at the Havana Embassy in Beijing, said at a meeting with the press that those incidents were supported by a large-scale communication operation, coordinated by counterrevolutionary groups and an active participation of violent individuals.
According to the diplomat, the aim was to subvert constitutional order, provoke social outbreak and materialize the long-awaited overthrow of the Cuban Revolution.
He deplored that hostile forces now took advantage of the material adversities resulted in the tightening of the economic, financial and commercial blockade amid the Covid-19 pandemic.
The official said that the Cuban Government functions normally, maintains rejection to the imposition of 'humanitarian corridors' and welcomes sincere donations from abroad.
The charge d'affaires of the Cuban Embassy thus updated the Chinese press about the situation in the Caribbean nation after the July 11 riots.