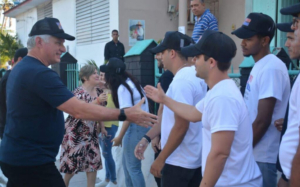 Havana, Cuba.-After exercising his right to vote in Santa Clara, Cuban President Miguel Diaz-Canel called to give young people all the opportunities and create spaces where they can discuss and propose their productive and social initiatives.
At a meeting with national and international journalists, at the exit of a polling station 1 in this central Cuban city, the head of State pointed out that it is very important for the nation that young people continue to train and create spaces in their companies in the fields of technology and innovation.
"The managers of companies and institutions of all kinds, have to take into account who these recent graduates are, what opportunity they are giving them. Whenever I arrive at a workplace, I ask the managers if they are letting young people propose their initiatives and if they give them the chance to develop," Diaz-Canel pointed out.
"We are planning for the country's development system to be driven by a government management system based on science and innovation, which is why transmission pulleys are needed and, in each place, these pulleys are the scientific potential," he stressed.
He pointed out that it is necessary to transform the processes in public administration, and the structure must have master's degrees and doctors to revitalize these innovations.
"I am one of those convinced that innovation is the premise of an important component for the full development of the country," he stated.