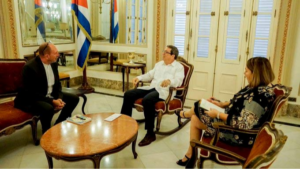 Havana, Cuba.- Cuban Foreign Minister Bruno Rodríguez met with Etienne Henri Labande, representative of the World Food Program (WFP) in Cuba.
At the meeting, both officials noted the willingness to continue strengthening relations and expanding cooperation between Cuba and WFP, Bruno Rodríguez live-tweeted.
Rodríguez also thanked WFP for its contribution in support of the emergency and recovery efforts following the passage of Hurricane Ian across the country´s western region.
Among WFP´s working lines in Cuba – in the 2021-2024 strategic plan – are the strengthening of agricultural value chains and their links with social safety networks for a steady supply of nutritious food, disaster risk management, and climate change adaptation capacities at the local level.
There is also a partnership between WFP and Cuba´s National Civil Defense Staff, which allows cooperative work for capacity building and increasing resilience in local food systems.
WFP has also reaffirmed its strong commitment to continue supporting Cuba in actions that lead to fulfilling the 2030 National Development Plan.