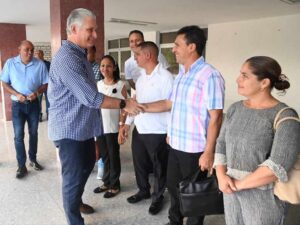 Santa Clara, Cuba.- Cuban President Miguel Diaz-Canel began his second day of meetings on Tuesday as a candidate to the National People's Power Assembly (Parliament) with a visit to the Marta Abreu University in central Villa Clara province.
The head of State, who is also the First Secretary of the Communist Party of Cuba (PCC) and graduated as an electronic engineer, was a student leader during his studies at that higher education center, where he also received his doctorate in Technical Sciences in May 2021, with a research on a Government Management System based on Science and Innovation for sustainable development.
Academics invested with the honorary degrees, professors emeritus, and members of the Society of Science and Technology Interface attended the meeting along with all eight candidates for deputies to the Cuban Parliament from Santa Clara municipality.
Also present were outstanding students from the Marta Abreu University, which celebrated its 70th anniversary in December 2022.
The president's agenda also includes meetings with factory workers, residents in urban communities, and a visit to the craftsmen's square.